Having a camp-look and unique fly-rafter system, the Canvas Lodge comes in two sizes 12' x 14' and 14' x 16'.
General Specifications include:
Blue-print and material list for building the base platform and deck platform. Platforms (not included).
Nominal 2x4 and 2x6 pre-cut tent cabin kit with a 33.69-degree roof slope and six-foot three sidewalls. Construction grade / framing lumber of spruce, pine, or fir. With fasteners and rough openings provided for door and window. Door and window (not included).
Nominal 1" x 10" all ready-cut knee wall boards and 1" x 2" batten strips.
Canvas ceiling and wall panels: 10.10oz. 100% cotton army duck multi-purpose fire retardant and water repellent canvas. The Sunforger finish adds an extra layer of protection from moisture and mildew.
Tan 18 oz. vinyl coated canopy tarp with bungee cords and fasteners. Camo canopy tarp (optional accessory).
Platform drawings and our standard deck drawings, assembly drawings included.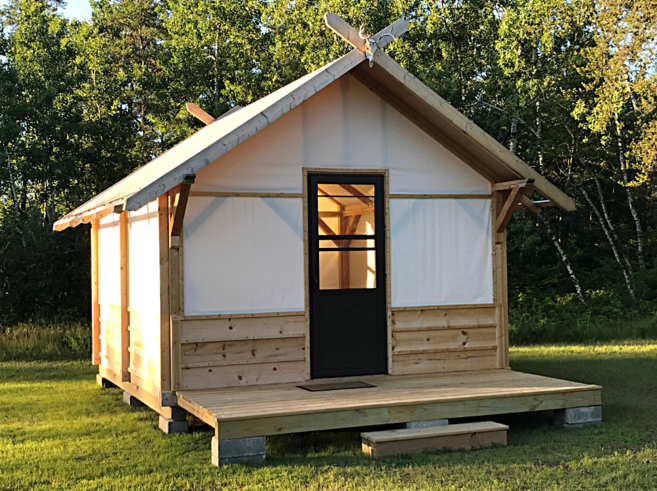 For Two to Five Tent Cabins Receive a 5% Discount.
PRICE: 12'x14' CANVAS LODGE $ 9,500.00 FOB / ORIGIN.
PRICE: 14'x16' CANVAS LODGE $ 11,500.00 FOB / ORIGIN.
(prices are subject to change)
 50% Deposit required, remaining amount upon invoice.
OPTIONS: I ENCOURAGE YOU TO COME PICK UP YOUR TENT CABIN OR I CAN ARRANGE A TRANSPORT COMPANY.

General Information:  For the "Canvas Lodge" I recommend that the buyer brings to the assembly, a skilled carpenter or two assuming the buyer has no carpentry skills.
Basic tools required are tape measure, cordless drills, clamps, level, stapler and saw. Because my tent cabins are merely canvas stretched over wood framing, they are not engineered and cannot be snow load or wind rated. However, here in Northeast Wisconsin, I have been able to enjoy my tent cabins all four seasons.