Is reminiscent of the Western mining camps that sprang up throughout the Western United States during the 1860's.
The tent cabin's simplicity and ease of assembly are ideal for anyone wanting a tent cabin with an affordable price.
The Canvas Cabin lends itself well for personal use or for a starter camp looking to expand by creating a "cluster" of rentable tent cabins. This could turn into an ever-expanding business for you.
With both walls and roof canvas exposed, and having a translucent nature, adds to the sensation of the outdoors while being inside. With the glow coming from the burning lamps, the Canvas Shack will certainly illuminate the pitch-dark woods bringing out the wilderness.
Having a steep sloped roof, quickly shedding the weather, this tent cabin with an optional slippery slope tarp, allows you to enjoy the Canvas Cabin year-round too!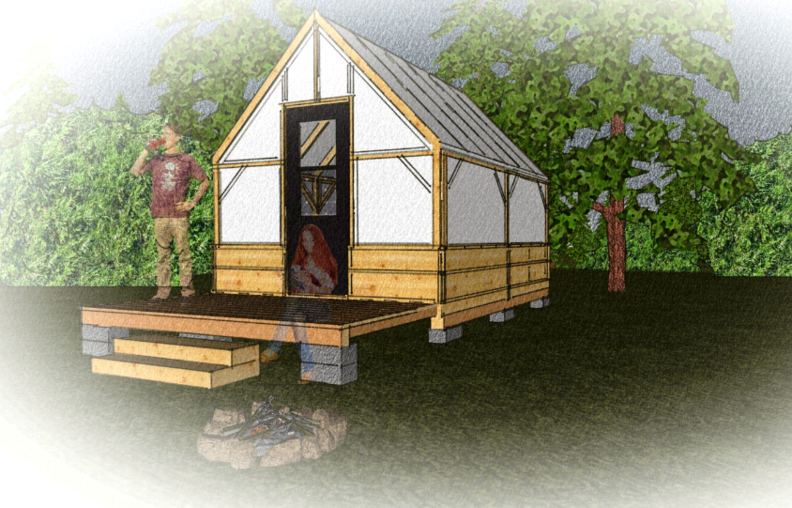 For Two to Five Tent Cabins Receive a 5% Discount.
PRICE: 10' x 12' CANVAS CABIN $ 4,000.00 FOB / ORIGIN.
PRICE: 12' x 14' CANVAS CABIN $ 4,500.00 FOB / ORIGIN.
(prices are subject to change)
50% Deposit required, remaining amount upon invoice.
General Specifications include:
Blue-print and material list for building the base platform and deck platform. Platforms (not included).
Nominal 2x4 all ready-cut / tent cabin kit. Construction grade / framing lumber of spruce, pine, or fir. With fasteners and rough openings provided for door and window. Door and window not included.
Nominal 1" x 12" all ready-cut knee wall boards and 1" x 2" batten strips.
Canvas wall and roof panels: 10.10oz. 100% cotton army duck multi-purpose fire retardant and water repellent canvas. The Sunforger finish adds an extra layer of protection from moisture and mildew.
Assembly drawings.
Optional accessory: Not included extra protection all weather (slippery slope) 12 mil polyethylene tarp. Add: $150.00 Color Tan.
General Information: For the "Canvas Cabin" I recommend that the buyer brings to the assembly, a skilled carpenter or two assuming the buyer has no carpentry skills.
Basic tools required are tape measure, cordless drills, clamps, level, stapler and saw. Because my tent cabins are merely canvas stretched over wood framing, they are not engineered and cannot be snow load or wind rated. However, here in Northeast Wisconsin, I have been able to enjoy my tent cabins all four seasons.